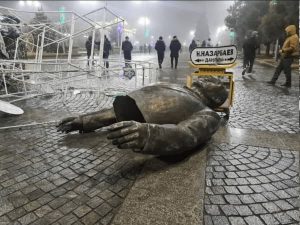 Below are the few episodes reflecting our thinking while we were following the events in Kazakhstan in the first days of January 2022. We present the pieces which were translated by the CrimethInc collective from Russian to English.
Who are behind the "violent" resistance?
In the whirlpool of events we are still trying to analyze something, not to dissolve in the information noise.
Perhaps the most interesting question for us is: what groups and forces are involved in the events in Almaty, where the scenario of confrontation is the most radical and violent at the moment? It is impossible to answer unequivocally right now.