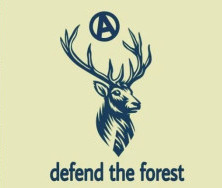 We received an inspiring email from Carpathian mountains where activists took actions to protect the forest.
In the beginning of this autumn one of the many Carpathian logging sites was attacked in Ukraine. It was an act of resistance against the business, the state and anthropocentrism.
Vehicles destroyed: logging machine got it's electronics cut out, windows shattered and gas tank pierced.
Timber carrier got a sugar injection in its gas tank.
credi nella libertà!