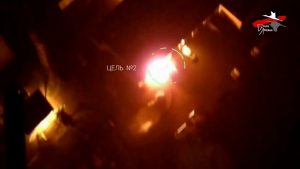 Belorussian partisans have attacked OMON (Special Forces) base using modified drones.
The "Чорны Бусел" (Black Stork) group reports:
Target: OMON base, 120th Division Heroes str., Minsk.
The Black Stork group has dropped two 5-liter tanks filled with flammable liquid. These drops from a great height were carried out with an interval of 20 seconds between them.
The strikes were accompanied by loud bangs and flashes, waking up the whole OMON snake pit from neighboring houses. The impact sites are marked with arrows on the map.
Lukashenko's celebrated Air Defence system has failed to protect even this supposedly secure area with lots of "sensitive sites".
All departmental facilities of MVD (Ministry of Internal Affairs), property, vehicles belonging to punishers in uniform are potential targets for next attacks. We strongly recommend you not to park in their vicinity.
The full statement – Буслы ляцяць