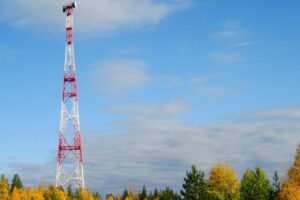 We've received a report about the arson attack on a cell tower in Belomestnoye (Belgorod Oblast) on the night of 17 to 18 April. This action has been planned and carried out by the group "БОАК-Слобожанщина" (Anarcho-Communists Combat Organization – Slobozhanshchyna).
Electric cables which ensure the functioning of a cell tower were wrapped in rags, doused with a flammable liquid and set on fire.
Cell tower attacks in border areas not only inflict an economic cost on RF in general (particularly tangible given the sanctions and difficulties in the acquisitions of new equipment), but also impede communications between police and military forces.
Since the August War of 2008 with Georgia (when a tank column had been stopped on their way to Gori only thanks to one officer with a cell phone who managed to catch up with them driving his UAZ jeep – seeing as army comm line ceased to function) it's no secret that due to the ruthless plundering of military budgets (on top of everything else), police and army often have to close those supply breaches at civilian expenses.
There have been a few challenges, particularly with photo and video recording. Preparatory actions and the whole operation have been analyzed and evaluated, decisions have been made on improving efficiency in the future. There's gonna be more, so stay tuned:)
We would also note that this action was held while yellow terror alert was declared in Belgorod district, which didn't stop the partisans.